Duplex Basket Filters
The duplex construction is simply described as two 'simplex' Basket filters connected together by suitable two 3-Way Valves or a single 6 Port Valve assembly. The Duplex construction is generally adopted where the flow has to remain uninterrupted and one of the filters has to remain in continuous operation.

Here only one filter remains in operation and the other remains on standby. The standby filter is put into operation by switching over the flow from the choked filter or on attaining a predetermined pressure drop.

The choked filter now out of the operation cycle, can be opened to clean or replace the basket.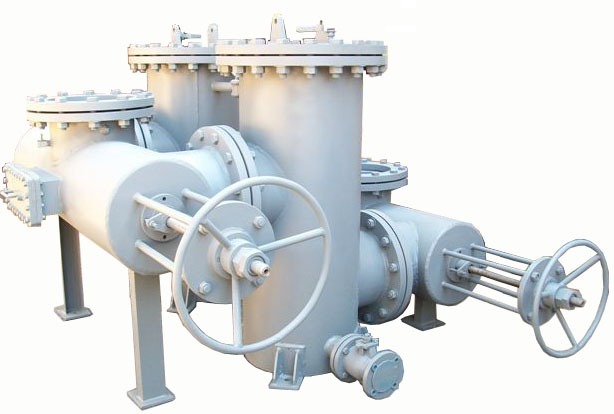 | | |
| --- | --- |
| Material of Construction | SS 304, SS 304L, SS 316, SS 316L, FRP, PP, PVC, Lined |
| Generally Fabricated | 25 mm – 150 mm flanged / with 3 way or multiport interconnecting ball valve |
| | 200 mm – 750 mm flanged / with interconnecting 3 way disc valves and or 2 way Butterfly valves |